Janet Sturman
Professor of Music
Administration Bldg, Room 302
520-621-0420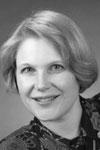 Dr. Sturman, an ethnomusicologist and pianist, joined the University of Arizona School of Music faculty in 1995. She received her Ph.D. in ethnomusicology from Columbia University in New York City, her M.A from Hunter College – CUNY, and her B.M. from Wittenberg University in Springfield, Ohio. Prior to teaching at the University of Arizona she taught at the Louisiana Scholars' College where she served as Assistant Professor of Humanities and directed the College's Fine and Performing Arts Concentration. Currently, Dr. Sturman is Associate Dean of the University of Arizona's Graduate College, and acting chair of the Graduate Interdisciplinary Program in Applied Ethnomusicology and Intercultural Arts Research.
She is the author of Zarzuela: Spanish Operetta, American Stage (University of Illinois Press, 2001) and The Course of Mexican Music (Routledge, 2016) and is the lead editor for the SAGE International Encyclopedia of Music and Culture (2019). Her research centers on the role of music in the maintenance, creation, and projection of ethnic and social identity. Her special interest in American multicultural practice has led to studies of music in the American Southwest, as well as Spanish and Latin American expressions. Additional interests concern the role of technology and the entertainment industry in shaping musical expression and cultural responses to music.
Her scholarly publication includes articles and reviews in The Garland Encyclopedia of World Music, Current Musicology, The Yearbook for Traditional Music, Ethnomusicology, The World of Music, Interdisciplinary Humanities, and Louisiana Folklife and chapters in Music and Technoculture (eds., René Lysloff and Leslie Gay) and Scholarly Research for Musicians (ed., Sang Hie Lee) She served as review editor for The World of Music Journal from 1995-2001. An active member of several professional organizations, including the College Music Society, the International Council for Traditional Music, and the Society for Ethnomusicology, Dr. Sturman has served on the Board of Directors for the Society for Ethnomusicology and for the College Music Society. She is President-elect of the Western Association of Graduate Schools.
More: